2 Bed-Room Apartment with Home Automation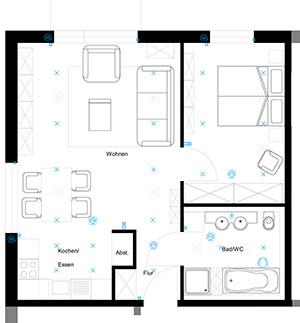 This use case of SCLAN is suitable for new houses/apartments as well as for older homes who are looking for renovation. The intelligent lighting controller provides not only comfort, but also security. The light scenes can be the arranged according to time, position of windows blinds and more. The individual room heating control allows maximum Energy Efficiency. The presence of detectors and window contacts not only provide alerts but can be used with other contexts too.
With SCLAN your property is not only safe its intelligently smart too.
Light and light scenes:
All down-lights are controlled by 8 dimming channels in scenes.
Blinds and shutters:
All 4 blinds are operated independently in space or together in scenes and modes.
Heating and Cooling:
The 3 actuators are automatically controlled depending on the detected room temperature and the desired temperatures of inhabitants. This is done as a function of the selected operating mode.
Operation and control:
2 compact touch panels allow easy and fast sensing conditions, and specifying and modifying scenes. By integrating 4-button switch quick immediate actions are possible. The remote 4-way switch without display allows same basic operations and controls without display.
Motion detector:
In SCLAN system the motion detectors have two functions. They can automatically activate lighting scenes, and serve the present alarm functionality for room monitoring.
Door and window contact sensor:
On site sensing contacts can be integrated in the SCLAN bus for different functions such as lowering the temperature in the heating season, or as part of the alarm functionality.
Smoke detector:
In addition to local alarm alerts it can also send the alerts to local authorities and can initiate with in necessary actions on detection.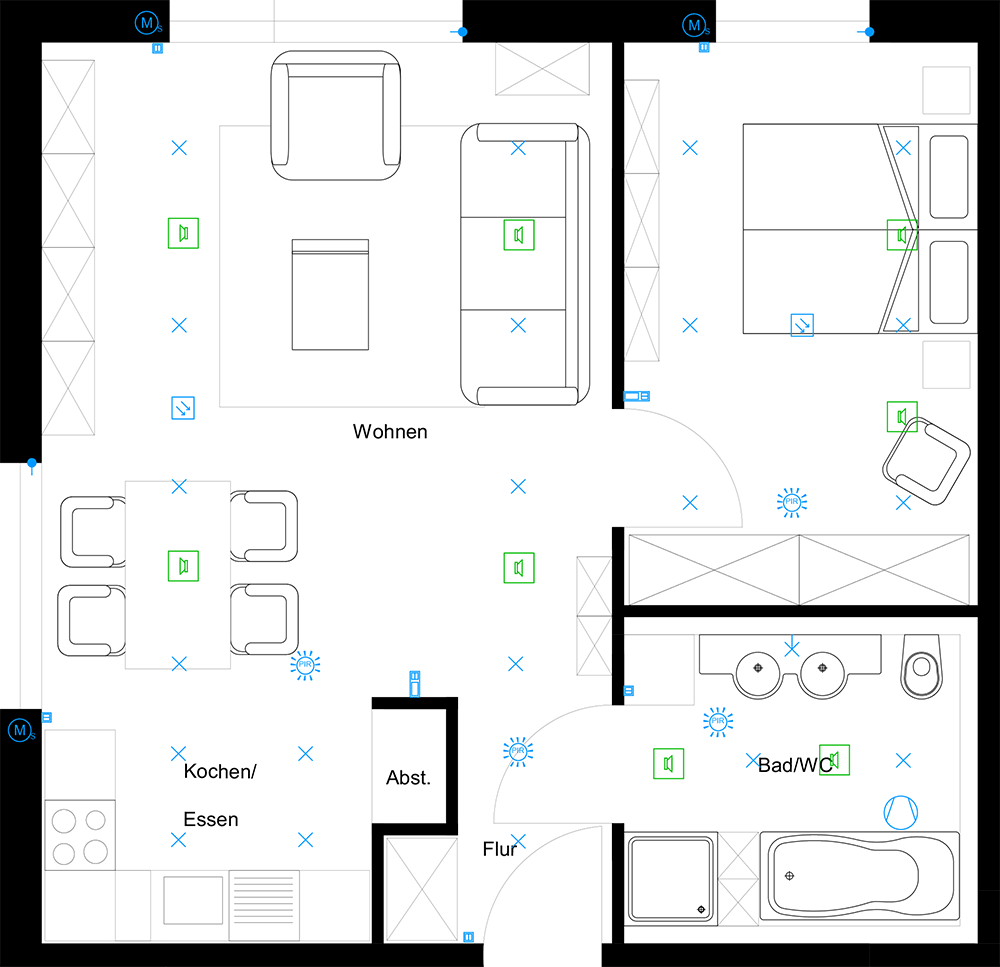 2-Bedroom Apartment Package Example
Products and details in the right column
Total Retail Price excl. Cabinet
5.999,00 EUR (incl. 19% Tax) *
---
Add on Package
Light and Power
- 21 high-quality built-in LED Lights LTS211.90 with outer frame and dimmable ballast
- 14 Sockets in matching glass frame
Total Retail Price/strong>
4.499,00 EUR (incl. 19% Tax) *
On Left the Downlight | On Right built in Loudspeaker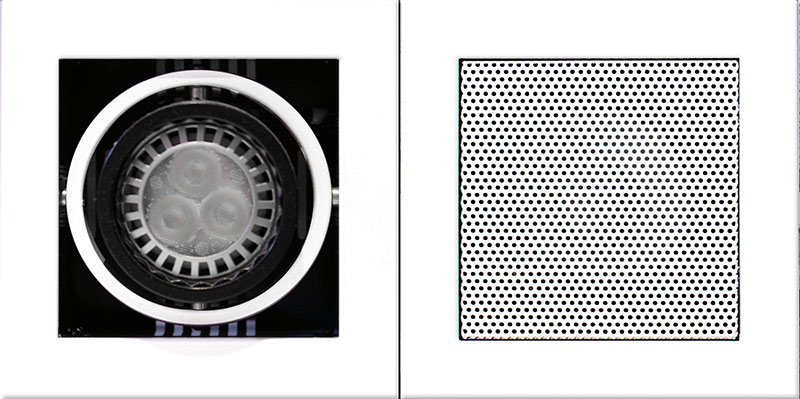 Add on Package
Multimedia
- 8 high-quality built in Loudspeaker VP-SCE
- Amplifiers Streaming audio to sources in 4 zones for listening
- Network components for secure WiFi and LAN Building Wide
Total Retail Price/strong>
4.999,00 EUR (incl. 19% tax)*
---
Alarm functionality:
SCLAN can monitor sensors, including not only dedicated alarm sensors such as Window opening contacts or smoke detectors but also normal operation sensors, for example, Motion detectors, which are already used for automatic lighting control.
* Prices without installation on location and without cable
Mistakes and technical changes excepted.