sclan.de/
examples
The following examples of house de'cor will show you some options. Get inspired. The functional diversity of SCLAN-BUS will suprise you.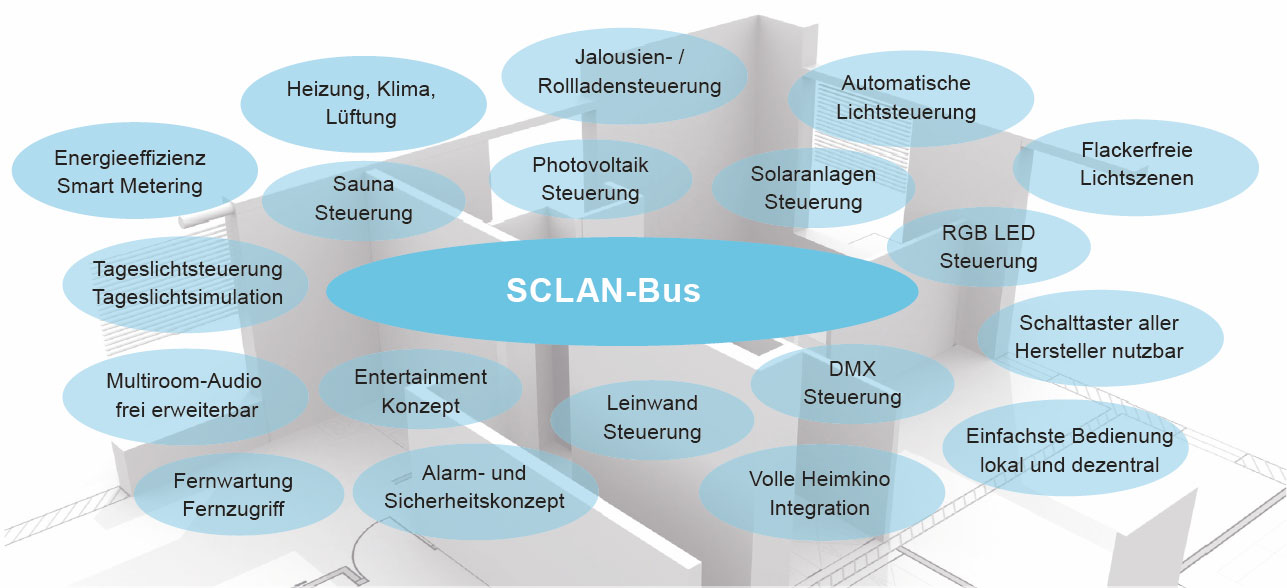 Energy efficiency - Smart metering - Heating, air conditioning,Ventilation - blind /. Automatic shutter control - Lighting control system - Flickering free light scenes - Daylight-dependent control - Daylight simulation - Alarm and safety concept - Ease of use-local and remote - Switch button of all manufacturers can be used - Multiroom Audio - freely expandable - Full home cinema - Integration - Screen control - Sauna control - Photovoltaic control - Solar systems control - DMX control - Entertainment Concept - RGB LED Control - Remote maintenance - Remote access
The variety of functions allows almost unlimited individual opportunities, we like to discuss with you together - because not all the benefits are always immediately visible. Contact us without any obligation!

sclan.de/smartstart
"smart home" already includes most demanded disciplines of home automation. The house is secure, heating is controlled, lighting scenes for each room are available. Comfort and reliability at the highest level. Expandable at any time - future-proof and energy efficient. Quality in detail.

sclan.de/smartmedia
For music lovers, a Multi-Room Audio Solution, including a Media Server, which seamlessly fits into the SCLAN Control- and Operating-Concept is included. Guaranteed audiophile, customizable and compatible to HiRes Audio.

sclan.de/smartdeluxe
Simulation of daylight and daylight control creates well-being in every season. A discreet security concept operates as a digital watch dog to your personal Protection. A control and comfort concept, that leaves nothing to be desired. A dedicated integated Home Theater provides fun and relaxation.